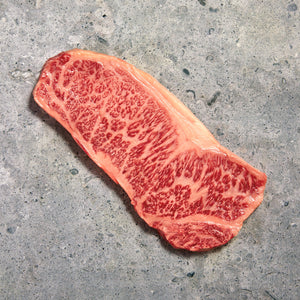 This A5 Wagyu from Kagoshima Japan is truly a food experience you don't want to miss out on. A5-graded is the rarest of all steaks, less than 1% of total Japanese production. Kagoshima Black cattle are raised in the sun and natural surroundings of a warm tropical island.
This finely marbled Japanese Wagyu strip steaks are cut to approximately 11-13 oz each.
Casanova's Japanese A5 is certified and your purchase comes with a certificate of authenticity.